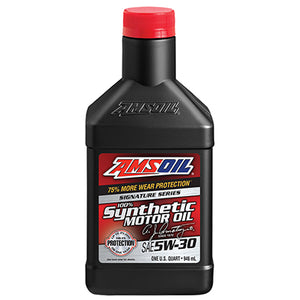 AMSOIL Signature Series 5W-30 Synthetic Motor Oil
Engineered for enthusiasts seeking maximum protection and performance. Precision-formulated with cutting-edge technology and a longstanding devotion to making the world's best motor oil.
The result: engine protection that blows the doors off the highest industry standards.
A New Level of Motor Oil Technology.
• 75% more engine protection against horsepower loss and wear.

• 50% more cleaning power vs. AMSOIL OE Motor Oil
• Protects turbochargers 72% better than required2 by the GM dexos1 Gen 2 specification.
• Trusted by professional engine builders
• Guaranteed protection for up to 25,000 miles or 1 year
---
We Also Recommend