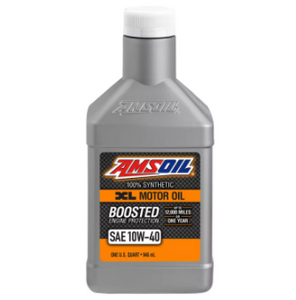 AMSOIL XL 10W-40 Synthetic Motor Oil
AMSOIL XL Synthetic Motor Oil is the choice for those who want to do something extra for their vehicle. Its boosted formulation delivers extra cleaning power, outstanding wear control, excellent high- and low-temperature protection and exceptional fuel economy. XL is engineered for advanced automotive technology, including turbos and direct injection. It is packed with extra engine protection, allowing you to go up to12,000-miles or one year, whichever comes first, between oil changes.
APPLICATIONS
Use AMSOIL XL Synthetic Motor Oil in applications that require any of the following specifications:
10W-40 (XLO)
API SP, SN PLUS, SM...; ACEA A3/B3, A3/B4
COMPATIBILITY
AMSOIL XL Synthetic Motor Oil is compatible with conventional and other synthetic motor oils. Mixing other oils with AMSOIL motor oils, however, will shorten the oil life expectancy and reduce the performance benefits. AMSOIL does not support extended drain intervals where oils have been mixed.
---
We Also Recommend